'The Apiary's promise is to walk with you as we lead, innovate, and shape the ECEC system, with your needs and future at its centre.'
After two years of Covid separation, the Apiary was excited to hold its first in-person convening in Hepburn Springs on 23-25 March. 13 ECEC Apiary Fellows came together as system leaders and innovators to discuss what it takes to realise systemic transformation by reaching for bold, child and family-centred change.
The convening was facilitated by The Front Project's Jane Hunt and Rachael Wilken and Kerry Graham, Fiona Mackenzie from partners, Collaboration for Impact (CFI).
The convening opened with a Welcome to Dja Dja Warrung Country by Troy Firebrace, who grounded the group, welcoming us into relationship with each other and Country with a Smoking Ceremony. Troy, an Aboriginal Education Officer for Catholic Education Sandhurst Diocese, led Fellows through a reflection on ways we can use touchpoints to bring all children closer to connection with First Nations traditions and culture.
The convening was centred on identifying patterns in self, Apiary, and the ECEC system, that could be barriers to systemic action. The program enabled ECEC leaders to design action through exploration of power, collective purpose and collaboration. The group solidified as a 2022 Fellowship and a collective voice for ECEC beyond their organisational roles.
As one Fellow said: we are "stepping into our individual and collective power to drive systems change".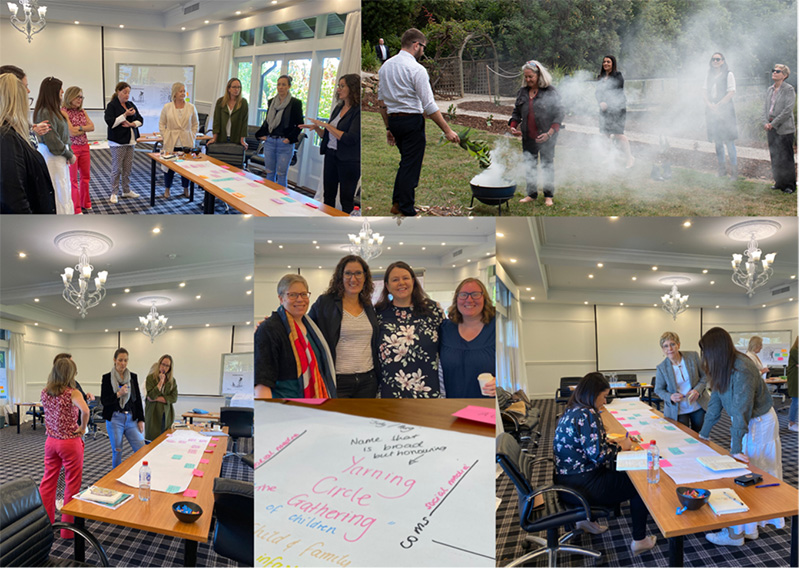 Mark Yettica-Paulson, CFI Deep Collaboration Lead, was guest facilitator on Day 1. Mark is from the Birrah, Gamilaroi and Bundjalung peoples, bringing decades of wisdom from his career in leadership development, diversity and inclusion, and community education across the corporate, government and faith sectors. Mark facilitated the group through an exploration of power – what it is, different power archetypes, and how individual power can be used for collective purpose.
Fellows responded to the challenge 'What can only The Apiary do?", by moving past individual and organisation remits and pooling expertise, experience and resources for a shared vision.
This year the Fellows will pursue collective action that will partner with children and families to lead early learning into a system that functions not just for now, but one that is designed to meet the timeless needs of children into the future.
Fellows made their promise to be accountable to children:
"Together we promise to help you flourish, be resilient, be culturally secure, to grow, to learn and to be loved. And to be YOU".
As the Apiary moves forward, we look forward to continuing to place children at the forefront of our work. In May, the Apiary Fellowship will open for applications to join and learn about systemic leadership in ECEC and contribute to this exciting and impactful work.